To make digital analog of some natural process you need to keep key points on this process unchanged or as close to reference as possible. Art is a good example of previously totally natural process that took new branch in digital world. I am not an artist but I really obsessed with idea of getting most natural-like digital drawing experience. And as an example I am going to use "Wacom Intuos Pro L". In this topic I want to share with you with my observations, tips, and trick.
Version: 2020_10_18_000001
All articles on my site is just a extensionless UTF-8 files with plain text that defines content and "Jinja" macros tags that defines templating of this content. It helps me to avoid usage of the messy databases, using file system instead to create, keep and edit information. Text, Images and related files of particular article storing in the same article folder and in the same time folder with articles folders also separated from the main site sources. Yes, I know that this solution may look weird but it helps me to keep this portal as simple to manage as possible: on lightweight handmade CMS, without admin section, without WYSIWYG tools... on one small flash drive. And just because all this is literally just a text file, I can edit it in most simple text editing tools... like SublimeText3 which I'm using right now.
The biggest problem of this solution that once plain text and "Jinja" tags are mixing up all this soup becomes pretty hard to read. Sure, there are special "Jinga" syntax linter existing but it helps to determine where text and where "Jinga" macros tag is, but it's not helping to determine which particular "Jinja" macros tag it is: paragraph, image, link... etc. and for formating of the article on the go it's highly important. After small research I found out how to create custom syntax that will adjust whole work space for specific needs of this syntax. In this topic I am going to show you most simple and minimalistic case that can be imagined. Also it will be completely independent from all other settings.

Version: 2020_09_27_000001
Okami - is an open-world metroidvania with pretty interesting gameplay features. This game has come a long way, starting it from the Sony PlayStation2, hitting the spotlights on the Nintendo Wii, has been in sight at the rest of the console and now you can enjoy it on the PC in high resolution and unlocked frame-rate.
This game is a kind of Japanese folklore fairy tale where you are playing the role of the wolf Amaterasu - the goddess of the sun and the mother of all living things.
Main visual style feature is that game looks like a canvas painted with ink and watercolors and the main gameplay feature is that in any moment you can interact with this canvas by painting over it with wolf's tail dipped into ink.
There is no need to look for a hardcore in this game, since it has an exceptionally meditative purpose. The world here, though open, but at the same time feels cozy and handmade, and a lot of micro-activities make it come to life under your paws.
The game has an equally entertaining, but even more unknown successor called Okamiden for the Nintendo DS portable console which I also highly recommend you to play.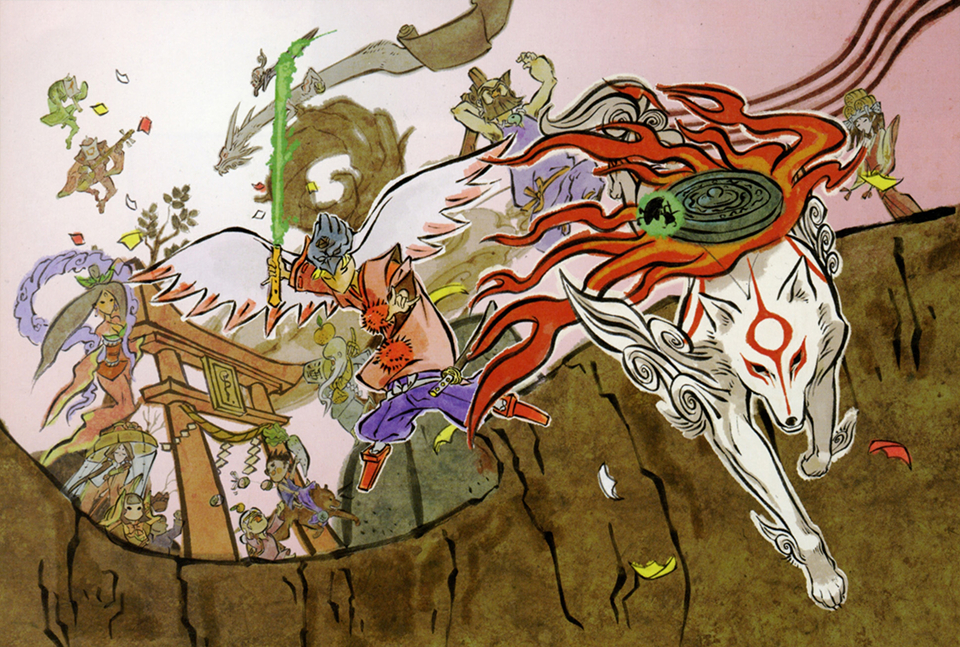 Created by TennojiM
All rights reserved
© 2021